Robometricschool

. - Can you realize your imagine toys when you still in children in this time? We thing it is to be realize when you follow the developing of Internet of Thing in this era. It is because that in Internet of Things era will open new opportunity for your creativity. Not only for young people, children with good creativity can realize their desire.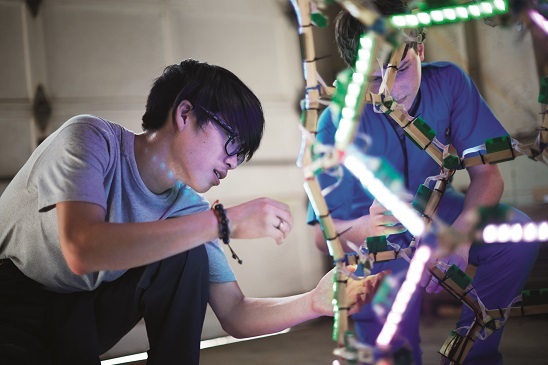 Image : DetikInet
With using like Intel Galileo and Intel Edison technology, people can realize their desire with not just drawing robots, spaceships, or futuristic fashion design, they even really can make it by following the tips and free software available on the Internet.
According DetikInet, 2/11/2015 that the equipment used by the creators of the famous product is now increasingly available, both for school children, hobbyists, and for those who have an idea and a desire to tamper with the electronics.
Access to this technology can be traced to the presence of the rapid increase in the so-called open design movement, which is defined as the development of physical products, machines and systems through the use of public information shared design.
In the past, what might be too complex or expensive for most people, it is now easier to use and affordable for anyone interested in making a device that is connected to the internet and can be controlled from a personal computer, tablet or smartphone.
Like Jamel Tayeb, who works for Intel Software and Services Group, has just created a balloon space, using Intel Galileo, low-power and the size of a smartphone.
The balloon was able to fly as high as 97,000 feet before returning to earth, not far from where it was launched and can take amazing photos.
Although Tayeb familiar with electronics for appropriate work, but this is the first space balloon he had ever made. Tayeb using a material that anyone can buy it online, or can be purchased at almost all major electronics stores.
As open source software, which usually develops in collaborative community and even for free. Likewise, the open source hardware, which allows anyone to reconfigure or program the computing components using a variety of software, both free, open source and paid software.
The term Internet of Things be a keyword used by technology companies lately. But Edward Ross says what is in reality little more driven by the movement of the open design.
Various microcontroller available today, but Intel is making a new type that gives makers a great performance computing and software that makes it easy to connect to the Internet creations, using cloud services to analyze and store data and even connect to another wireless device.
Dream to create the future of gadgets in the era of the Internet of Things could also be realized by seeking funding through Kickstarter commonly relied upon by the tech startup.
What is the Internet of Things?
The Internet of Things (IoT) is the network of physical objects or "things" embedded with electronics, software, sensors and connectivity to enable it to achieve greater value and service by exchanging data with the manufacturer, operator and/or other connected devices. Each thing is uniquely identifiable through its embedded computing system but is able to interoperate within the existing Internet infrastructure. (Wikipedia)